Table of Contents
Running an eCommerce business can be exhausting; not only do you have to market and sell your product, but after orders come in, you must get them out the door as soon as possible.
You might already realize that your fulfillment strategy is the lifeblood of your company, and having a fluid process that allows you to scale and manage thousands of orders is the key to your business's success. The smoothness and effectiveness of your shipping procedure influence how quickly you can deliver products. The faster you can transport and replenish your inventory, the greater your potential to sell more, boosting your profits and developing your business.
While you may prefer to handle your own fulfillment while you're getting started with your eCommerce business, you'll likely outgrow that approach over time, and that's when you should start looking into an outsourced fulfillment solution with a third-party partner.
What are the differences between in-house fulfillment and outsourced fulfillment?
In-house Fulfillment
This is where you are responsible for the full fulfillment process, which includes collecting sales orders, picking, packaging, shipping, tracking, and resolving any late, missing, returned, or damaged deliveries. In house fulfillment gives you full control, insight into your business, and a less expensive option to get started. As your company grows, maintaining in-house fulfillment can become more difficult, costly, and time-consuming.
This is the stage at which you collaborate with an outsourced fulfillment provider, a third party logistics company that provides services from warehousing, storaging, packing, shipping, tracking, and ensuring delivery dates. It is frequently utilized to complement business growth since it provides knowledge, lowers prices, more space, and faster delivery times.
If your small business is expanding faster than you can keep up with it, it's time to think about outsourcing some of your critical processes before you fall behind. Small business fulfillment services take care of the bother while providing considerable profit increases, cost reductions, and time savings.
When should you outsource order fulfillment?
The differences between in-house and outsourced fulfillment are straightforward. It is obvious that in-house fulfillment is advantageous while starting your eCommerce business and that outsourced fulfillment is required once your eCommerce firm has grown.
But when will there be a tipping point? When should you make the switch?
Here are eight crucial indicators that you're ready to outsource your fulfillment:
You are unable to focus on running your business.
It's time to outsource if you're spending so much time on fulfillment that you're neglecting other critical responsibilities at your eCommerce business.
You need fast shipping.
It is commonly accepted that providing fast and free shipping is one of the most efficient tactics to increase e-commerce sales. If you are unable to do this through in-house fulfillment, it may be time to consider outsourcing.
Your team is incapable of meeting client demands.
Every company wants to see an increase in orders. While having a stream of new clients is fantastic, you must be able to keep up with the order volume. If there is a persistent backlog in processing or shipping orders, this indicates that your organization is no longer able to meet client needs. When your team falls behind on order fulfillment, it might result in unsatisfied customers and, as a result, decreased sales.
Returns are piling up.
Handling returns can be time-consuming. When things begin to build up, it's time to look for a partner who can handle returns properly and get your inventory data correct and up to date.
You want to expand.
Expanding either domestically or abroad necessitates a significant shift in your fulfillment strategy. These and other questions can be stressful when you're simultaneously attempting to maintain an online store and keep orders coming in.
You need more storage space.
More orders imply more stocks, which demand somewhere to put them all. If your warehouse is overflowing and you don't have the will or budget to expand, an outsourced fulfillment company is your solution. Furthermore, if you choose a fulfillment service with various warehouses around the country, you will be able to expand your delivery areas without increasing your warehouse expenditures.
Your fulfillment cost is high.
Third-party fulfillment businesses are experts at optimizing the process, whether it's receiving shipments or decreasing packing materials. Your company is probably spending significantly more for delivery than is necessary. A 3PL may be able to help you cut shipping expenses if you're seeking to strike a balance between offering free shipping and safeguarding your profit margins.
Your tech isn't keeping up.
A 3PL partner who is technologically savvy will be able to provide you with the systems you need to attain real-time visibility. The ability to minimize manual processes and obtain complete visibility over your organization is critical to successful fulfillment.
How to choose the right e-commerce fulfillment provider?
Choosing the right e-commerce fulfillment provider for your business could be overwhelming if you've never done it before. A few important factors should be considered while choosing the best order fulfillment provider for your business. These are the most important factors that should be carefully considered before making your decision.
Shipping Speeds.
With Amazon's two-day delivery becoming the new industry standard, selecting a fulfillment firm must include an eCommerce fulfillment service capable of delivering your company's product to your consumers in a very short period of time. To avoid losing customers, verify that your fulfillment partner is dependable and will not let you down when your sales volume increases.
Looking for an order fulfillment service with incredible shipping speed? SPExpress is here to help you ship fast, save time, and cut your fulfillment costs.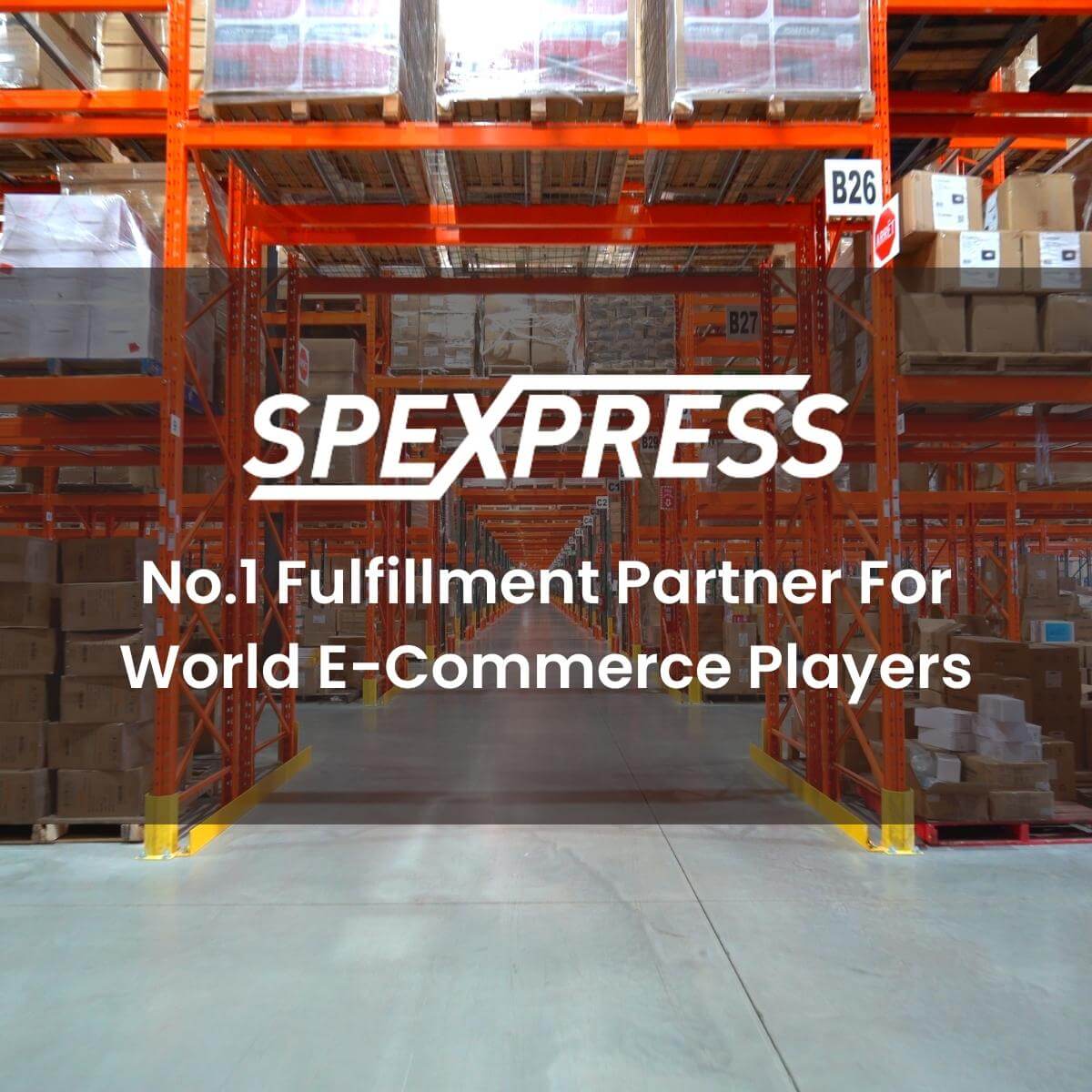 Capabilities.
Your 3PL provider should be your business partner, and their capabilities should meet your requirements. The main advantage of working with a tech-enabled 3PL is the ability to seamlessly integrate fulfillment into your current or future tech stack. Can they operate with Shopify or WooCommerce as e-commerce systems for their clients? Drop-shipping with major internet retailers? It is critical to understand whether they use innovative warehouse and inventory management technology capable of providing the requested services.
Reliability.
3PLs must be experts at securely storing inventory and consistently shipping orders on time. Since the outer perception of your own reliability will determine the reliability of a 3PL. It is vital for every eCommerce business that the right orders be sent out on time. It's also critical to learn how they handle disruptions and whether they'll be able to respond promptly when order volumes fluctuate or more services are needed. In short, 3PLs must be experts at securely storing inventory and shipping orders consistently and on schedule.
Efficiency.
A good third-party logistics partner should always try to improve its warehouse operations. While a 3PL should be able to maintain accuracy in product selection, packaging, and shipping by utilizing technology, you should have better control over how your products are delivered. A 3PL should always strive to become more efficient over time by optimizing picking routes, storing frequently ordered products close together, and finding ways to speed up procedures without sacrificing quality.
Warehouse Locations.
When it comes to choosing a 3PL for the first time, a common mistake eCommerce firms make is using a 3PL close to them. While the closeness of a 3PL to a potential client's customer base is critical in terms of delivery costs, businesses should choose a starting location that will minimize their average shipment cost and transit time in order to serve the most number of consumers as early as feasible. Online shoppers nowadays expect inexpensive prices and speedy delivery. If your delivery options fall short of what your customers expect, your cart abandonment rate will soar, as will your repeat purchase rate. The third-party fulfillment center you pick to put your items in can make or break your ability to deliver, so be sure your decision is based on data and accessibility to your clients.
Customer Support.
Your 3PL partner's service and technology should provide all you need, such as all-in-one order and inventory management software, analytics tools, picking and packing services, inventory storage, automated order tracking, and more. Your PL partner should identify and manage difficulties as soon as possible, as well as develop a plan to avoid problems from repeating. A 3PL's system can automatically notify clients when their products have been delivered. Furthermore, the 3PL's software should be capable of providing confirmation to your eCommerce platform, which can subsequently give tracking updates to your clients. If your consumers have any questions about their orders, you can rely on your 3PL's system and support to properly respond to them.
Customization.
Is your company in need of a customized label or package? Do you require special packaging for your orders? If you answered yes, the 3PL provider you chose should be able to customize their services to what you require for your consumers. The 3PL should have the experience and capability to satisfy the customization requirement. Because your 3PL partner is an extension of your organization, they must deliver the same level of service and dependability to your consumers.
A third-party logistics (3PL) supplier can assist your company when you are ready to outsource fulfillment.
Using a third-party logistics provider like SPExpress will help you build your brand, save time, and cut your fulfillment costs. Most importantly, your business will be able to free up resources to focus on product development, marketing, and business growth.
Get in touch